E-COMMERCE WASTE- THE PACKAGE PROBLEM
like 689
Posted By :
ScienceIndia Administrator
Theme: Pollution and Management

"At the rate we are producing waste, someone, somewhere, will always have to pay for it"
Electronic Commerce (EC) otherwise called as e-commerce encompasses the process like buying, selling, transfer or exchange of products, services and information through the Internet. E-commerce is often considered as a part of e-business. It also includes providing service to the customers, collaborating with business partners electronically which expands the company's market place to all over the world. The benefits are low cost, any time availability, wider reach, better coordination, time saving, cash on delivery, free home delivery and delivery to the desired location with some message, large assortment and driving the growth and adoption of this technology by attracting more customers. Due to this digital revolution, the e-commerce sector in India has become more than four times its size, from $3.8 billion in 2009 to $18 billion in 2016 and nearly 71%. E-commerce business in India has sustainable growth.
One of the biggest challenges facing the online industry is packaging which is made of plastic, paper, bubble wrap, air packets, tape and cardboard cartons and it has to be bulkier than usual to protect the product throughout the journey to avoid the damages. Disposing plastic waste should be made priority rather than throwing it around that ends up in clogging drains or getting to the landfills, thus increasing the generation of waste. So, the industry will need to closely examine packaging material usage and waste throughout product life cycles.
Moreover, the growing trend of excessive packaging will certainly lead to deforestation as wood pulp used as raw material for making cardboard which is equal to more than one billion trees being chopped. The toxic chemicals used in the production of these packaging materials are affecting human health as they enter into our food cycle. It creates the negative effect like harmful radiation and air pollution that comes from transportation leads to massive CO2 emissions causes global warming.
Amazon is organized a Certification Program in the name of "frustration-free packaging" to engage and educate industry with an extent in order to reduce the environmental impacts and to minimize e-commerce packaging waste and collectively eliminated nearly 83 million corrugated boxes. Meeting this challenge will need a more sustainable approach to product packaging, including the use of recyclable or renewable materials and disposal of such waste in accordance with scientific and environmentally sound principles. The following Steps can be considered to manage the E-commerce packaging waste.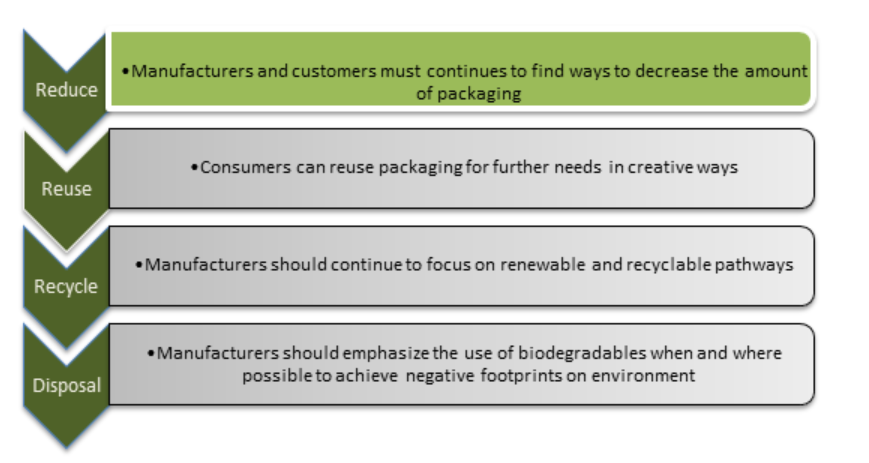 There is an urgent need for the creation of law to regulate e-commerce packing waste and it needs to be implemented for the sake of future generations.
About Author: K. Bhavana Sindhu, Junior Research Fellow (Project), BEES Lab, CEEFF, CSIR-IICT, Hyderabad.
Image source : https://www.inc.com/james-paine/9-companies-disrupting-the-ecommerce-industry.html & https://www.downtoearth.org.in/news/online-shopping-means-cutting-billions-of-trees-61296 (Down To Earth-Unwrap the e-commerce waste)
References
Fichter, K.," Environmental effects of e-business and Internet economy", Working Paper for the German Federal Environment Ministry (BMU), Borderstep Institute for Innovation and Sustainability, Berlin,2001.
https://www.forbes.com/sites/timworstall/2016/03/24/india-almost-gets-e-waste-recycling-right-but-not-quite/#10118dd7354e
Posted By : ScienceIndia Administrator