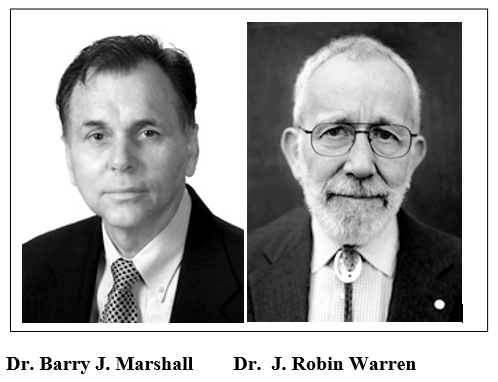 Dr. Barry Marshall was born on 30th September 1951 in Western Australia. After receiving his MBBS degree from University of Western Australia, where he in 1974; joined as Registrar in Medicine at the Royal Perth Hospital, Perth.
Dr. Robin Warren (born on 11th June 1937) received his M.B.B.S. degree from the University of Adelaide and was a pathologist at Royal Adelaide, Royal Melbourne Hospital and finally at the Royal Perth Hospital, where he carried out the Nobel prize winning research.
Together, the pair, discovered spiral bacteria in the stomachs of almost all patients with active chronic gastritis, or duodenal or gastric ulcers, and proposed that the bacteria were an important factor in the aetiology of these diseases.
In 1985, Marshall showed by self administration of Helicobacter pylori, causes acute gastritis and suggested that chronic colonisation directly leads to peptic ulceration. They showed that antibiotic and bismuth salt regimens that killed H. pylori could cure duodenal ulcers.
The work of Marshall and Warren produced one of the most radical and important changes in the history of ulcers/cancers and perhaps the strongest in the cancer-bacteria link. Their observation established that gastric disorders had an infectious origin.
In 2005, Barry Marshall and Robin Warren were awarded the Nobel Prize in Medicine or Physiology for their pioneering work on Helicobacter pylori. The Nobel Committee said, "Thanks to the pioneering discovery by Marshall and Warren, peptic ulcer disease is no longer a chronic, frequently disabling condition, but a disease that can be cured by a short regimen of antibiotics and acid secretion inhibitors."
A few references on their Nobel Prize winning work:
Marshall BJ, Warren JR (June 1983). "Unidentified curved bacilli on gastric epithelium in active chronic gastritis". Lancet. 321 (8336): 1273–5.
Marshall BJ, Warren JR (June 1984). "Unidentified curved bacilli in the stomach of patients with gastritis and peptic ulceration". Lancet. 323 (8390): 1311–5.